TECO Rolls Out the World's First VHPD Smart Motor
2018/03/08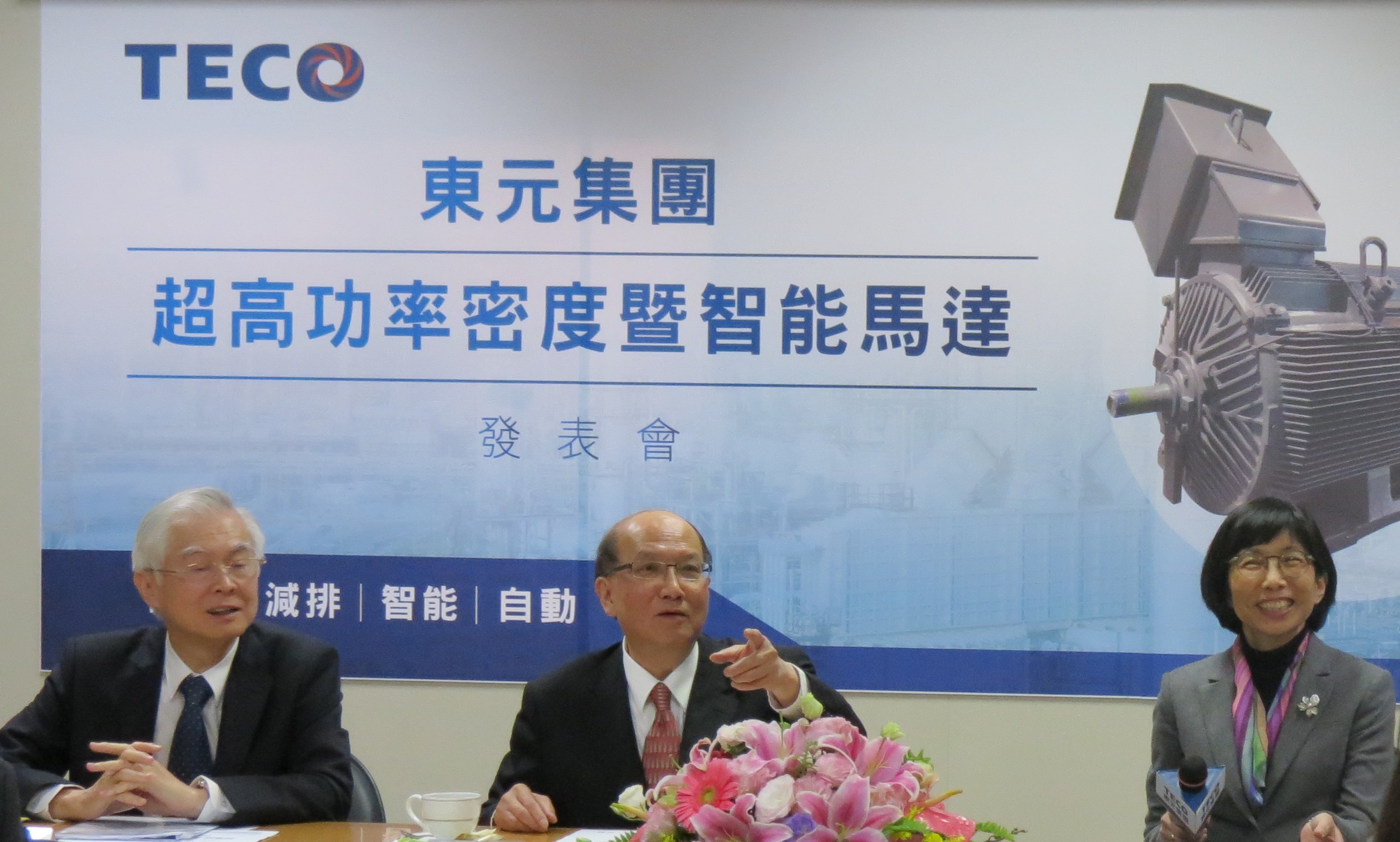 After two years of R&D taking advantage of the group's resources, TECO Electric and Machinery has rolled out VHPD (very high power density) smart motor, challenging the world's power ceiling for motors with No. 355 frame.
In addition to ultra-high power density, VHPD motor boasts high efficiency, small size, light weight, and smart machine-health management, suited to compact wind-propelled and hydraulic industrial equipment in such large-scale plants as oil refinery and power plant, thanks to occupation of limited space and a simple structure.     
Except high efficiency comparable to IE4, VHPD motor is furnished with a built-in smart machine-health management system, enabling remote monitoring for real-time maintenance, which slashes maintenance cost and energy consumption. Developed by Tecom Co., Ltd., an affiliate of TECO Group, the system boasts a unique cutting-edge electromechanical technology, compliant with TECO's corporate goal of "energy conservation, emission reduction, smart application, and automation," capable of injecting a new growth momentum for the company's business and creating even greater benefits for customers.
TECO points out that the VHPD smart motor is fruit of an R&D effort starting from 2015, which was carried out by a development team consisting of technological experts in various fields of the group, overseen by Liu Chao-kai, the group's vice chairman, under the assistance and guidance of a "forward-looking technology committee," which comprises topnotch domestic experts and scholars, including Wu Tung-chuan, Wu Ching-hsiung, Luo Jen-chuan, Huang Ming-hsi, and Chen Chin-sheng. The project had enjoyed the steadfast backing of the company's two chairpersons in succession, Liu Chao-kao and incumbent Sophia Chiu, both of whom were involved in the project in person. It is a major development item of the group in recent two years.
The development team also cooperated with a number of topnotch academic and industrial institutions, including the Metal Industries Research & Development Centre (MIRDC), the Industrial Technology Research Institute (ITRI), Taiwan Auto-Design Corp., and National Taiwan University, in developing a number of cutting-edge technologies, such as genetic algorithm, structural topology, mold-flow analysis, and multiple physical-coupling analysis, which were subsequently applied in trial production before certification.
During a presentation at TECO's Chungli plant on March 7, a demonstration of the operation of a VHPD smart motor was carried out, with the model featuring frame No. 355/3 kV/50 Hz/ 600 kW in power output, as well as 2.6 tons in weight. Another prototype has been shipped to Germany, ready for display at an industrial machinery show in Hanover in Aril.
Sophia Chiu points out that VHPD smart motor is a major fruit of the company's R&D effort in recent two years, on top of such new products as smart motor, anti-explosion motor, and high thrust-force motor. Given its optimal utilization of materials and high technology threshold, VHPD smart motor is definitely an industrial trend. Liu Chao-kai, vice chairman of TECO Group who oversaw the project, notes that VHPD smart motor is the representative product of TECO in 2018, citing its features of high power density, high efficiency, smart application, and compactness, as the product boasts 33% higher power density, the highest among motors with similar frames, at 20% less weight, on top of a built-in machine-health management system.