Brief introduction of low carbon production solution
More than 130 countries have declared to achieve carbon neutrality by 2050, making net-zero emissions a realistic goal and no longer just a slogan. Industries need to go through a green transformation as soon as possible. TECO Group has integrated high- efficiency motor drive systems with heat recovery, green power, energy storage systems, digital bifurcation, and operations optimization solutions. With our help, industries have significantly increased the efficiency of electricity consumption and the proportion of green power usage, achieving the goals of energy-saving and carbon reduction.
Our advantages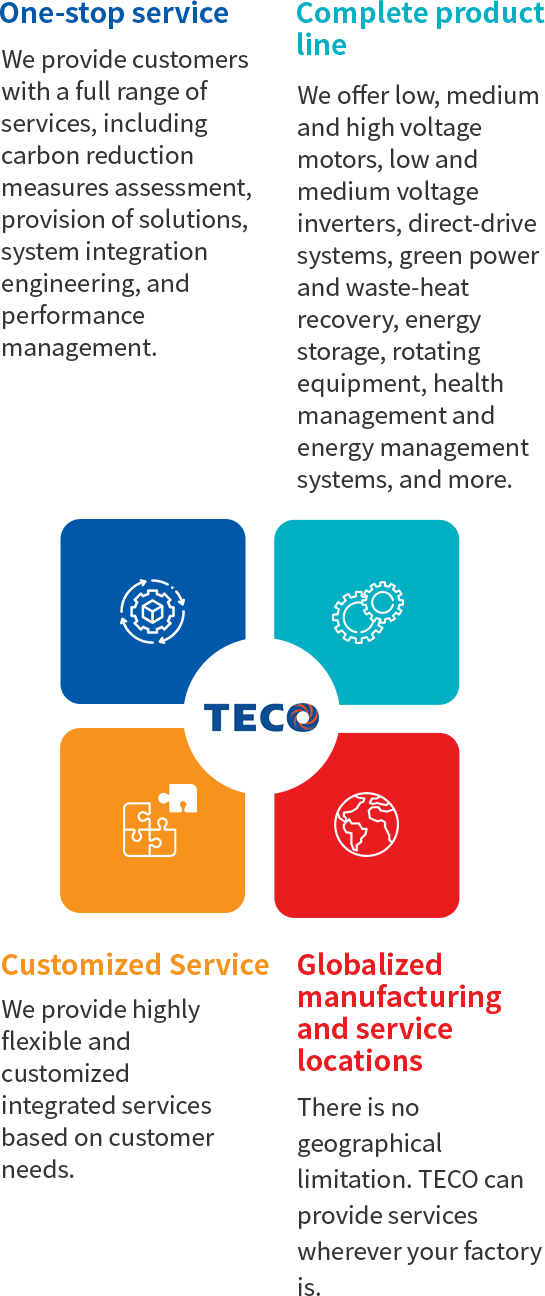 Low Carbon Industrial framework
According to a survey conducted by the Bureau of Energy, Ministry of Economic Affairs, the motor drive system consumes 70% of industrial electricity. TECO provides a low carbon industrial solution, suggesting the adoption of high-efficiency motors, which can increase equipment efficiency by 2 to 8%. Combined with varying load processes and inverters, the energy-saving effect can go up to 50%. The permanent magnet direct drive system can increase the efficiency of the transmission system by another 5 to 15%; the motor drive system can save another 2% of energy by staying in the best condition through proper maintenance and repair. With improved equipment efficiency, we can increase the proportion of renewable energy and move towards green production. The low-temperature waste heat in the manufacturing process above 80°C can be turned into green power through the heat recovery system. TECO's heat recovery power generation system holds several U.S. patents with industry-leading system efficiency.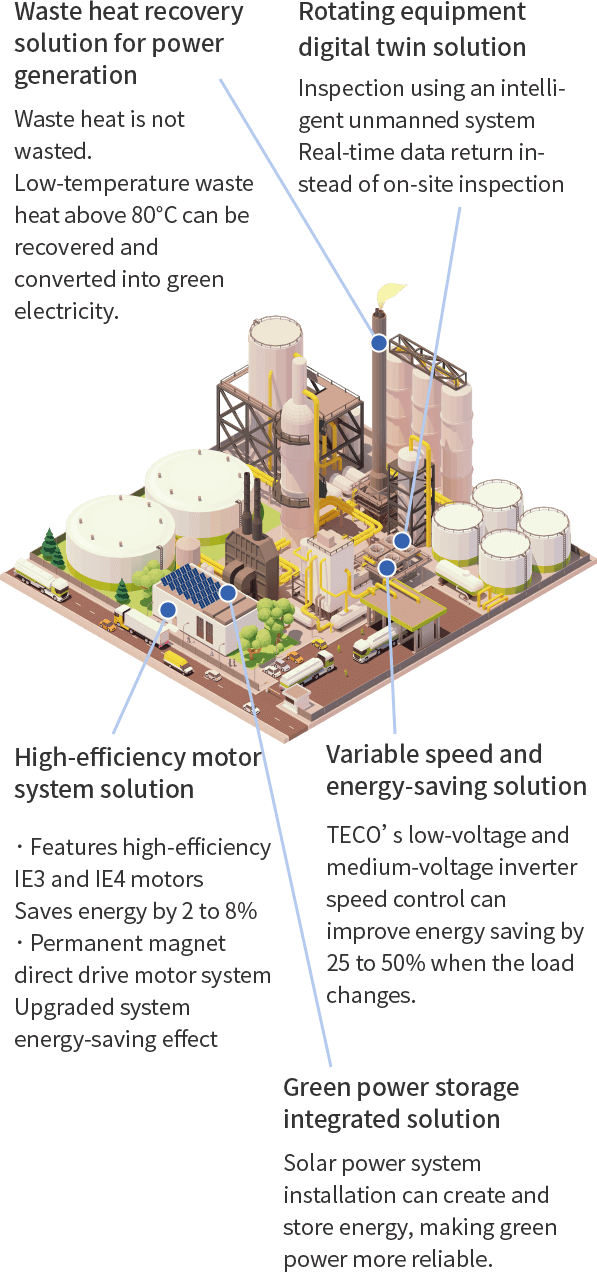 Introduction to related subsystems
Applications
Petrochemical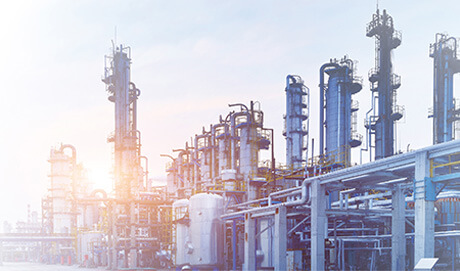 The rotating machinery or equipment in the petrochemical industry is often associated with interlocking risks such as production interruptions, potential occupational safety incidents, or contamination. We can monitor the important process equipment by sensors, network transmission, and data analysis to predict the future health status of the rotating equipment. Combined with high- efficiency motors and energy-saving, low-consumption operating conditions, we can improve production efficiency and safety management performance.
Steel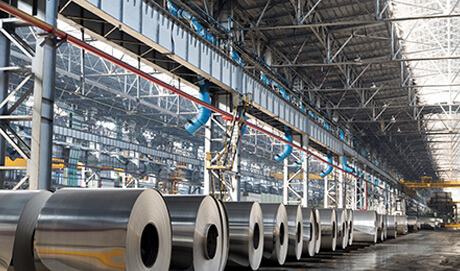 We apply specific process experience to provide appropriate control solutions. By performing real-time control and maintenance of main process parameters, we facilitate response to various customization requirements and provide the ability to utilize consistent metallurgical properties to produce high-quality products, thereby reducing costs and increasing profitability.
Textiles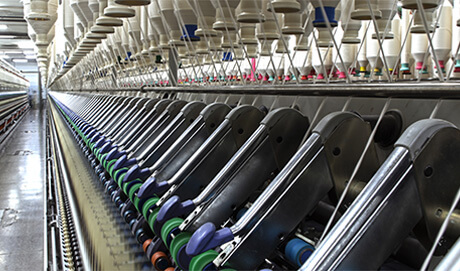 In the modern era, fashion is a fast-growing industry, and the demand for fabrics is increasing. The accuracy of the automated textile process and the quality of the finished products are becoming more important to the textile industry. The application requirements of textile machines mainly focus on low energy consumption, high speed, automation, and digitalization, meeting the requirements for tension control, synchronization control, high speed and high precision, temperature control, and process detection.
Cement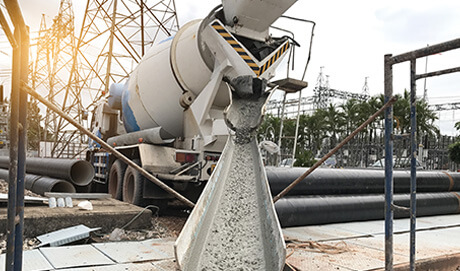 Control model solutions can help create the best operating system, ranging from system design, maintenance, mining, packaging, and shipping. Information-enabled solutions and motor control technology can help reduce emissions and cost per ton and achieve the desired functionality. Intelligent motor controls protect assets, improve motor performance, reduce energy consumption to increase operational flexibility, and maximize productivity.
Electronics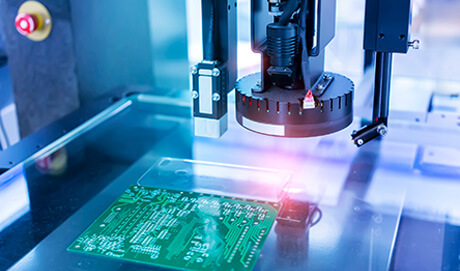 The speed and accuracy of the automated production line equipment are the keys to productivity. The complete product line of drive and control units can use communication to assemble products into a variety of solutions including transfer, inspection, gripping, etc. The precise, high-speed, and highly reliable control functions meet the needs of manufacturers and can further accurately grasp the quality of production, reduce defect rates, and provide efficient and practical automation solutions.
Industrial machinery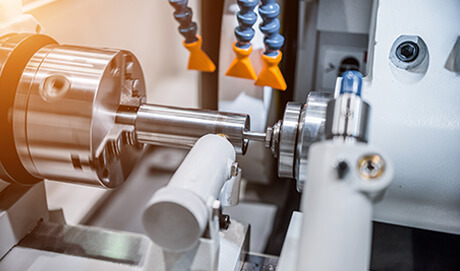 Industrial machinery is widely used in the automotive, aerospace, defense, machinery, mold, electronics, and power generator industries. TECO's products can be flexibly customized to meet the needs of enterprises and industries. TECO's servo drive series and the permanent magnet, high- efficiency motors are used as the main axis, supplemented by communication networks for high-speed data transmission and control, to precisely control the motor's constant speed, constant torque, and precise positioning.
Wind-power and hydraulic power machines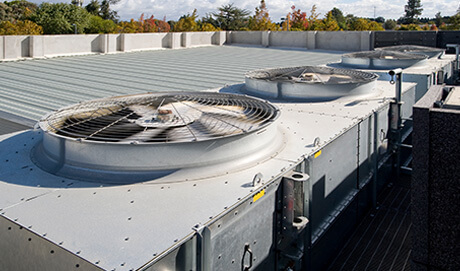 Heating, Ventilation, Air-conditioning, and Cooling (HVAC) is a control system of temperature, humidity, air quality, and air circulation. The cooling tower dissipates heat, and the air-conditioner removes heat energy from existing air. The hot and cold air form a circulation. The Air Handling Unit (AHU) supplies comfortable and refreshing air-conditioned air into the rooms through ducts. TECO provides a highly efficient and complete system with matching components, including motors, inverters, and customized pumps.
Jack-Wang
(Energy Saving Scheme)
Phone:
+886-2- 2655-3333#2315
Jordan Lu
(TECO MVD Module)
Phone:
+886-2- 2655-3333#1763
malone.ma
(Overseas)
Phone:
+886-2- 2655-3333#2581