Leader of Electric Manufacturing – TECO's Premium Products Won 16 Taiwan Excellence Awards
2017/09/29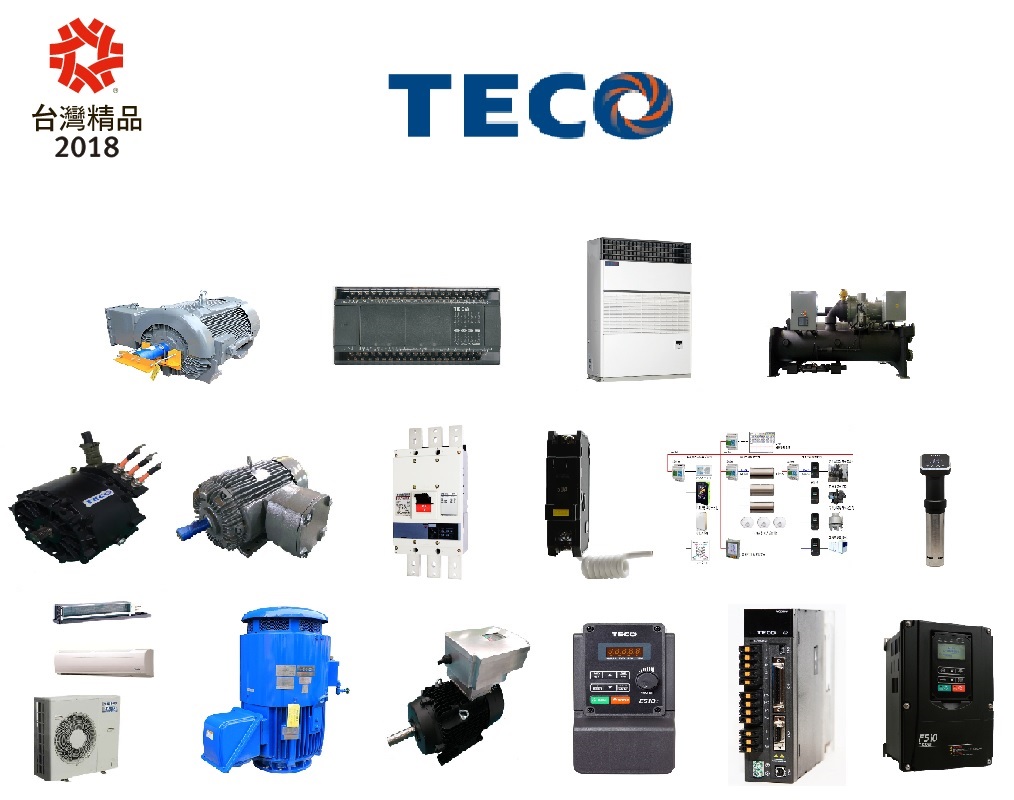 The winners of 26th Taiwan Excellence Awards have been unveiled. 503 products out of 1,209 candidates are recognized for their innovation. TECO Electric and Machinery Company (TECO) has won16 Awards with its high-efficiency, energy-saving, and IoT-enabled products, making TECO one of the top three performing companies participating in the competition, and the best in the electric and machinery category. 
TECO is a long-time winner in Taiwan Excellence Awards, with more than 60 award-winning products in the past 5 years. The manufacturing giant is known for its commitment to high-efficiency and low-emission green products. This year, TECO products feature supreme motor technology and advanced inverter technology. In addition to being green and energy saving, these products also support cloud-based smart system applications. The winners include the following:  IE3 Pressure-proof and Flame-proof High Efficiency Motor; Electronic No Fuse Circuit Breaker (NFB); Next-Generation High Power Density Motor for Electric Vehicles; Circuit Breakers for Short-circuit and Earth Leakage Protection; Intelligent High Efficiency Motor for (Industrial Grade) Stone Crusher; Programmable Logic Controller (PLC); On-line DC-Inverter Water-Cooled A/C Unit; High Efficiency Inverter Centrifugal Chiller; Intelligent Building Energy Management System for the Catering Service Industry; Intelligent Low-Temperature Cooking Device; Cloud-Controlled Air Conditioning System; Intelligent Efficient Hollow-Shaft Pump Motor; Next Generation Motor Driver; Multi-Functional On-line Vector Inverter; Advanced AC Server Driver with Communication Capability; High Protection On-line Inverter for All Operations Environment. These 16 awards demonstrate the fact that TECO is the best choice for intelligent electric appliances and machinery from Taiwan.
It is worth noting that TECO has won two years in a row in the category of transportation.  This year the company presents the Next-Generation High Efficiency Motor for Electric Vehicles, which is a low volume, light weight, and high efficiency permanent-magnet motor with IE4 efficiency. It features wide range in operating speed and IP65 dust- and water-proof design, and is robust in all environments.
TECO Home Appliances  has also won four Taiwan Excellence Awards with products from the household and commercial air conditioning appliances. The Cloud High-Efficiency Air Conditioner utilizes the new eco-friendly R-410A refrigerant. It supports up to 4 indoor units for rooms of different sizes, great for a living unit between 65 and 85 square meters. Its outdoor unit meets Cooling Seasonal Performance Factor 1 (CSPF1) requirements and has a small form factor of 90 centimeters in height, making this product both energy-saving and elegant. The On-line DC-Inverter Water Cooled A/C Unit for commercial use, is another CSPF1 product using the same R-410A refrigerant, featuring drivers and controllers independently developed by TECO. Another award winner is the Intelligent Building Energy Management System for the catering industry, one of the star products from TECO in recent years. It provides complete intelligent and automatic solutions for effective electricity management. With its smart traffic sensing and temperature control capabilities, it helps business owners save on electricity bills by effectively managing electricity consumption while ensuring the comfort level of users. 
The TECO General Research Laboratory has been the foundation of TECO's superior innovation, and its newly developed product, the Intelligent Low-Temperature Cooking Device is recognized by the Award. It allows users to remotely set up cooking modes for various ingredients through a smart phone app, and easily cook healthy and delightful meals, thanks to TECO's temperature control function, heat circulation design, and safety protection mechanisms such as water level and temperature monitoring.