TECO Offers Smart-Factory Solution for Traditional Manufacturers
2020/08/19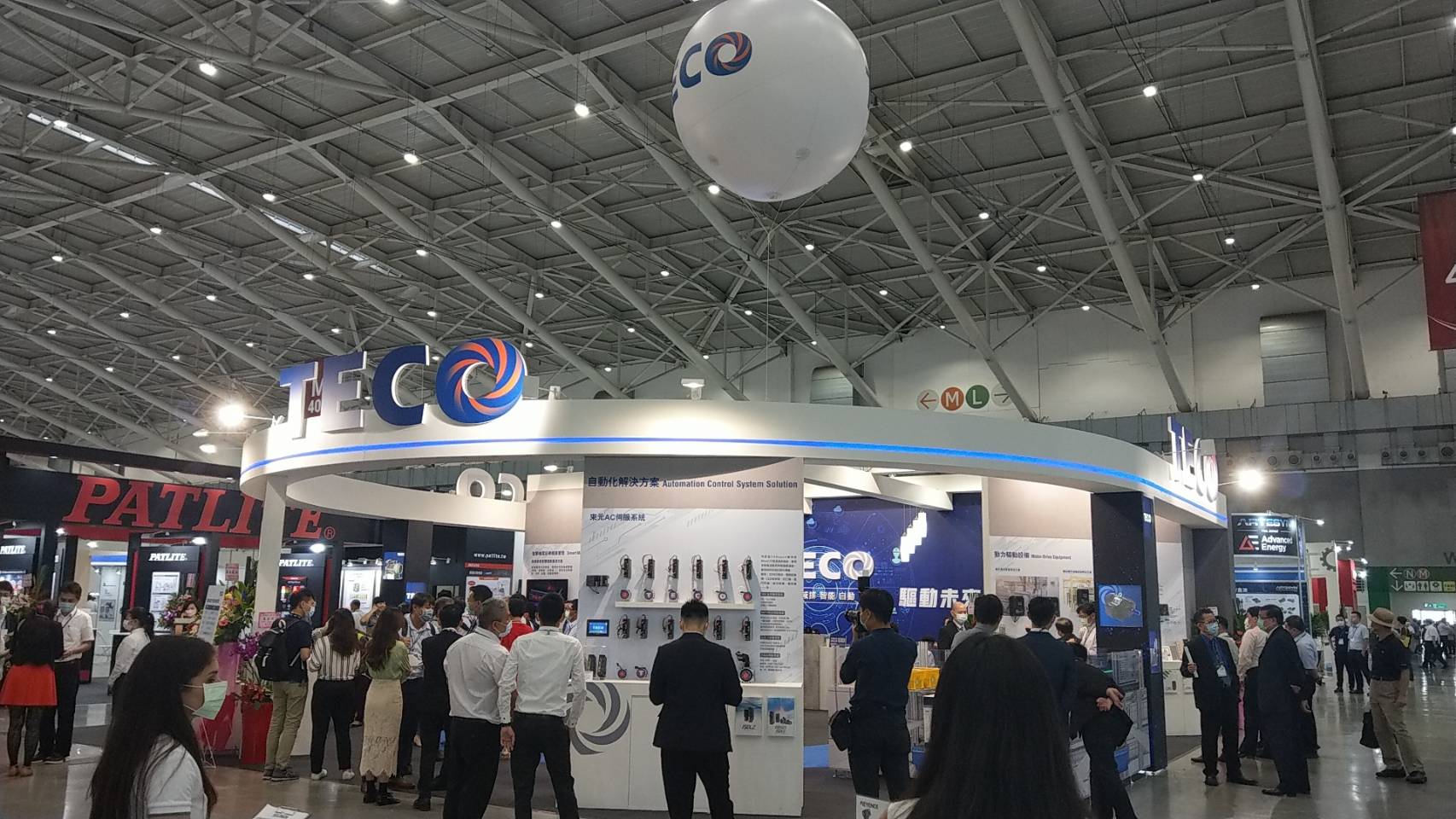 During Taipei Int'l Industrial Automation Exhibition 2020, TECO Electric & Machinery will showcase smart-factory solution, to help traditional manufacturers break through bottlenecks in their production lines.
Under the theme of "propelling future development with smart factory," TECO's smart-factory exhibit will feature employment of AR (augmented reality) technology for remote trouble shooting and visualized production information for remote interactive analysis, facilitating decision making by managers.
The smart-factory solution in exhibition consists of many self-developed key components, including digital electric meter, inverter, motor, and PLC (programmable logic controller), coupled with visualized detection technology and sensors, capable of exhibiting visualized data on display. The solution has been applied in smart production lines in TECO's plants in Chungli, Taiwan and Vietnam, materializing automated control and digitalized management, which has generated 10% extra benefits and attained over 40% saving in power consumption. Sophia Chiu, TECO chairman, notes that TECO's digital-factory solution can be customized, for application in not only large but also small factories, helping them attain digital transformation.
The solution also boasts big-data and AIoT (artificial IoT) technologies, provided by TECO subsidiary ITTS, enabling information visualization and interactive analysis, as a result of which management can have firm grip on latest information for decision making. Another highlight of the smart-factory solution is DC-servo smart vehicles on rail, with maximum load reaching 600 kilos, for smart warehousing, applicable in logistics and IC plants. IoT products also figure prominently in the solution, which furnish key machinery and equipment such smart functions as vibration and temperature detection, remote control, and cloud-end function.     
TECO points out that smart production lines in its factories will turn out key motor components for assembly and shipment by various assembling factories in various countries. Sophia Chiu remarks that such arrangement has enabled the company to keep industrial competitiveness under the impact of Sino-U.S. trade war and COVID-19 pandemic. She will share her insight on smart factory during a "CEO summit meeting," to be held in Taipei Nangang Exhibition Center, Hall 1, at 2:00 p.m., Aug. 19. 
During Taipei Int'l Industrial Automation Exhibition 2020, TECO Electric & Machinery will exhibit hardware and software for smart factory, capable of transmitting to central control room production data, including capacity utilization rate, operating status of machinery equipment, and vibration of key motive-force components, plus inspection and logistics information, for display on war-room digital signage, thereby forming a complete smart-manufacturing system.
1. War-room digital signage
In reviewing the performance of the entire business group, the home page will display the group's general KPI, including operating performance of headquarters (ERP on upper left), KIP of major production lines (MES on upper right), environmental protection, industrial safety, and hygiene, plus equipment health, at major factories (factory KIP on lower left), AI smart inspection (AGV on lower right), and five major business groups at the center of the exhibition group. Review KIP of five major business groups:
* Central screen displays monitoring digital value transmitted by sensors following  activation of permanent-magnet motor and inverter.
* Central screen displays real-time monitoring images of equipment and real-time images of AGV (automated guided vehicles).
* Central screen displays real-time images of AGV. 
* Central screen displays real-time status of production lines and interactive scenario for on-site trouble shooting via use of smart glasses.
2. Motive-force driving equipment--originating from motor production, core equipment components 
* Based on TECO's A510s advanced inverter, TECO exhibits a manual-operated wheel-control solution for screw-making machine, featuring intuitive adjustment of mode position and manual-operated wheel for moving motor forward, not only avoiding but also shortening time for screw-mode replacement. Thanks to the built-in manual-operated wheel, TECO's A510s inverter can fulfill the need for slow-speed precision calibration.
* The solution manifests TECO's capability for responding to the need for industrial machinery rapidly. Thanks to small-extent customization, TECO's inverters can meet different demands of customers.
* TECO's permanent-magnet motor, whatever the form, boasts highest efficiency IE4 (for self cooling or intensive cooling), as well as high torque, high response, and low vibration, applicable in various fields, such as metal processing, windmill, hydraulic machine, oil-electric or pure electric injection machine, and oil-hydraulic press, capable of mixed application to meet customer needs. TECO's intensive-cooling motor features lightweight and square shape, while self-cooling motor can replace induction motor. Permanent-magnet motors, featuring small and clear-cut design, are new-generation products.
3. Automation solution--DC server (for application in AGV)
TECO's "smart UVC disinfection robot" is equipped with ultraviolet tube for sterilization and disinfection with UVC light. It can also carry out spraying disinfection. It is TECO's third service-oriented robot, following meal-delivery robot and dish-collecting robot, and can be activated by simply pressing a button. TECO notes that its service-oriented robots embody a number of its core technologies, including electromechanical control, electronic control, information technology, information technology. The robots boast excellent mapping and positioning, precision control, and dynamic barrier avoidance, capable of passing narrow passages. For the sake of customization, the robots employ general-purpose interface module and retrievable battery. TECO plans to continue rolling out service-oriented robots, such transporting robot and inspection robot for factory and warehousing robot, based on modularized and structured design.
4. DC server (axial magnetic flux model) 
As a axial magnetic flux machine, TECO's DC server is an IMD product combining motor and driver without enlarging its size. It boasts high power density and small high-performance driving board, thanks to substitution of GaN component for traditional MOSFET driving component. In addition to lower production cost and higher performance, the product can fit customers' existing system seamlessly.
5. Automation control system solution (AC server application)
In line with the latest trend on the global markets for machine tool and automation industry, TECO's electric-control team has launched multiple customized products, including JSDG2S, JSDG2S-E, and JSDG2S-EL servo driver, supportive of CANopen and EtherCAT high-speed communications equipment. They can be coupled with the motor control function of AC servo motor, DD motor, and linear motor, dampening resonance. In the exhibition, TECO's MH and MP500 controller will display EtherCAT communications control and demonstrate simple movement, via coupling with a 12-axis servo motor.
Via utilization of integrated electromechanical technology, YASKAWA offers industrial equipment and machines boasting ultra high speed and precision control. In the exhibition, it showcases YASKAWA MP300 series machine controllers andΣ-7 series servo drivers.
7. Smart process line digital management 
* Technological highlights on display 
AIM and ITTS jointly showcase a motor assembly lint and a paint-spraying workshop to demonstrate digital-factor solution.
2. Motive-force driving equipment--originating from motor production, core equipment components   
TECO's solution help production lines of traditional manufacturers undertake digitalization transformation via addition of sensors, wireless communications equipment, and signage system. 
* Highlights of AIM and ITTS exhibits 
The solution boasts real-time display of production-line operating status and transmission of information on malfunction to remote supporting center, plus trouble shooting via utilization of AR technology. AIM also displays its application of power-saving solution, consisting of digital meter, inverter, motor, PLC, and sensors, in motor paint-spraying workshop, capable of attaining over 40% power saving via an automated control function. 
8. Smart machine health management
 TECOM Taiwan displays IIoT smart machine health management system, capable of detecting vibration, temperature, and power consumption of key machinery equipment in factory.