TECO's Smart Energy Conserving and Monitoring Solution in Spotlight During Taiwan Expo 2019 in India
2019/05/16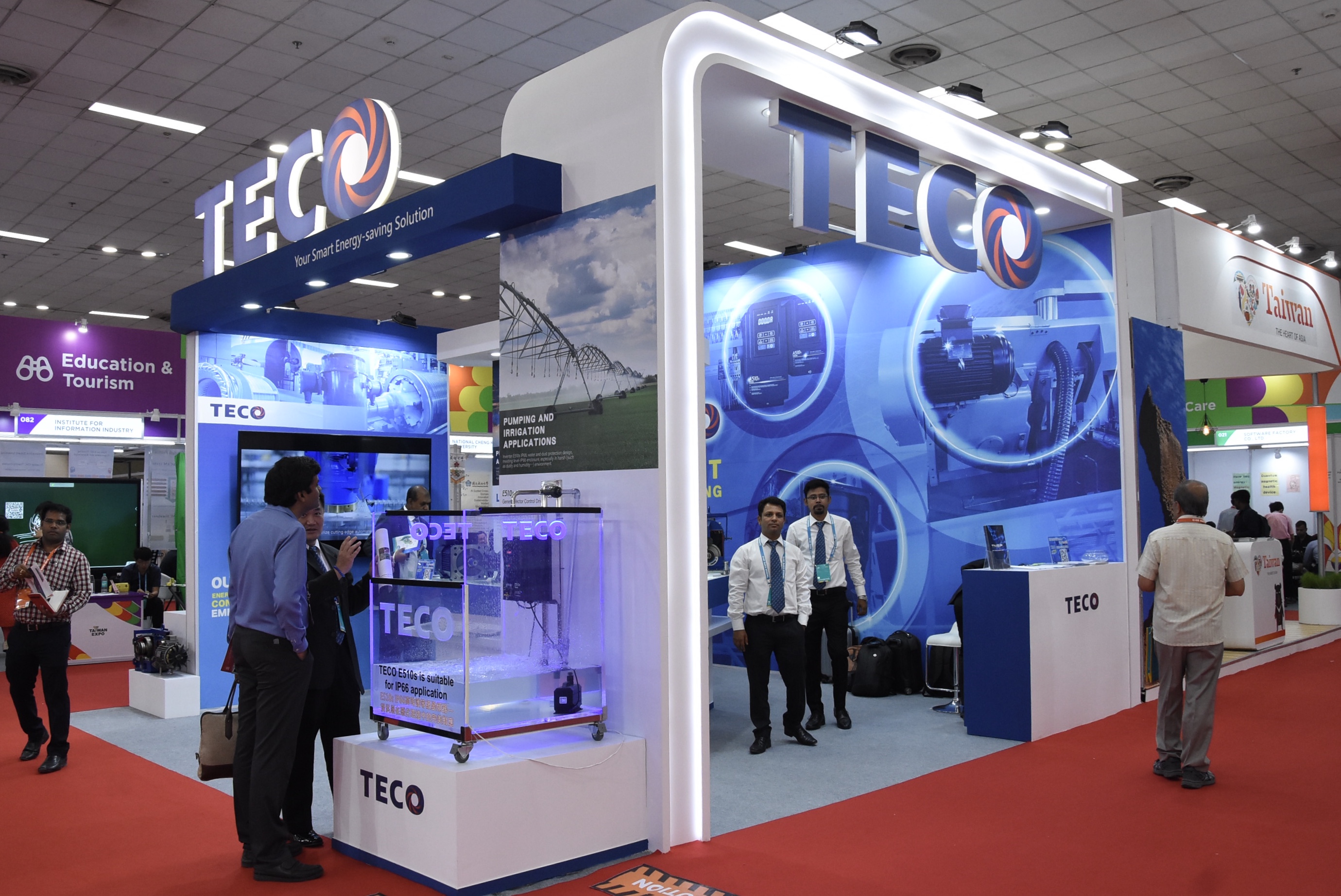 In order to tap the huge potential of the fast expanding Indian market, TECO Electric & Machinery attended "Taiwan Expo 2019 in India," showcasing power conserving and smart monitoring solutions which receives warm reception on the showground. 
Sophia Chiu, TECO chairperson, notes that the company hopes to acquaint Indian firms with its brand value and have them understand its capability helping them cope with the trend of Industry 4.0. Organized by the Taiwan External Trade Development Council (TAITRA), the exhibition takes place in New Delhi, May 16-18.
In fact, TECO has been striving to foray into the Indian market in recent years, which has attracted enterprises from around the world, thanks to its huge population, the second largest worldwide, and fast developing economy. The company has established a small motor factory in Gujara province, with annual output reaching 50,000 units, mainly for exports. Sophia Chiu points out that the company will step up effort tapping India's domestic market, with plans including setup of high-efficiency motor plant and inroads into India's electric-car motor market.
In "Taiwan Expo 2019 in India," the company highlights "smart energy-conservation solution" as the theme of its exhibition, displaying high-protective inverter, IES permanent-magnet motor, IE3 motor with cast-iron case, smart portable vibration diagnostic apparatus, and reducer produced by the company's Italian affiliate Motovario.
In 2008, TECO formed a marketing team in India, our large-sized motors, which have been mainly for sale to a number of Indian power plants, also including supply motors to Indian contractors for major international projects. Since 2018, TECO's affiliate Century Development Corp, which had been joined hands in establishing plans an international technological innovation park in Bangalore, India's third largest city, actively expand the Indian market. Therefore, India has become a major overseas outpost and key component in the global deployment of TECO Group.
Brief introduction to TECO's exhibits: 
1. ES10s inverter series: The series employs cutting-edge CPU, greatly boosting computing and protective performance, plus built-in STO safety protective function, meeting various industrial needs. 
2. ES10s IP66 high-protective inverter: suitable for installation in various adverse environments, significantly enhancing products' dust- and water-proof capabilities.
3. F510 inverter series: a HVAC inverter for use in wind and hydraulic power, with complete power range, capable of meeting customers' needs in fan/pump and building automation, plus built-in Modbus/BACnet/Metasys N2 communications protocol, applicable in building automation, and IP55-grade protection, suited to rigorous working environment.
4. A510s inverter series: a high-tier inverter boasting high-performance current-vector core control technology, high rated design, for both light- and high-load applications, and unique smart over-voltage suppression, preventing instant recharge of load carrying capacity, in an optimal demonstration of motor control.
5. L510s inverter series: a series with 0.25-15 HP, the highest among similar-level products on the market, capable of meeting customer needs in the low-end market, V/F control, and extra SLV current-voltage control, significantly enhancing torsion at low-speed activation and elevating performance to a new level.
6. Permanent-magnet motor: Compliance with IEC-60034-30-2 standard and attainment of the level of IE5 ultra-high performance motor, with two models, DVLF series (intensive cooling) and DVEN series (autonomous cooling), for choice, the former featuring resolver, rapid response, positioning control, tension control, low-speed high torque, and fixed torque, applicable in grinding machine, guillotine, wire drawing machine, and all-electric injection machine; and the latter variable torque, though without revolver, boasting safety, super-silence, lightweight, applicable in blast blower, air compressor, metal sawing machine, sander, and water pump, capable of high cutting quality and energy conservation for low-speed high-torque application, such as machining center, and output enhancement for high-speed high-torque application.
7. Smart portable vibration diagnostic apparatus: Employment of new-generation micro-electromechanical and IoT technologies, plus patented "interactive diagnosis" technology, with vibration gage being connected to smartphone via IoT, for execution of interactive and measurement operation.
8. Reducer: Consisting of NMRV worm wheel/worm gear series, H.B.S. gear reducer series, and PBH large gearbox series, meeting customer needs in specific speed, torque, application, and input/output interface, with ISO 6336 certification for load capacity, AGMA 2001 certification, and ATEX 2GD/3GD blast-proof certification.