TECO Signs MOU With Chunghwa Telecom and Microsoft Taiwan for Pushing Industrial Digital Upgrading
2021/03/22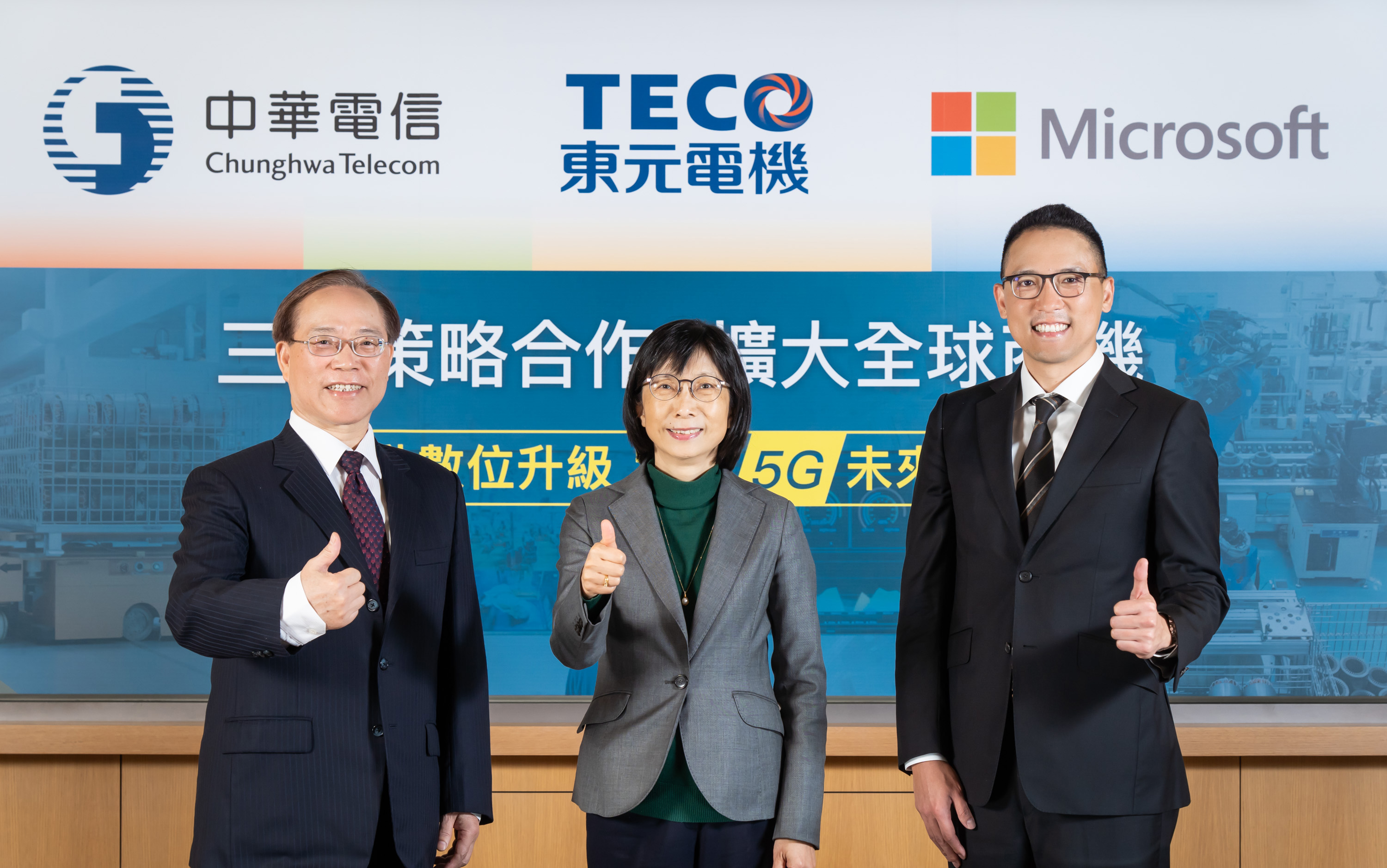 TECO Signs MOU With Chunghwa Telecom and Microsoft Taiwan for Pushing Industrial Digital Upgrading
TECO Electric & Machinery, Chunghwa Telecom, and Microsoft singed today (March 22) a memorandum of understanding on collaboration for pushing the development of Industry 4.0 in Taiwan.
The collaboration will foster a strategic alliance among the trio, taking advantage of their respective technological advantages in smart electromechanics, ICT (information and communication technology), and cloud-end service, in line with the 5G AIot current. Initially, the alliance will focus on the development and optimization of smart technological solutions, including smart electromechanics, automated products, smart energy, smart home appliances, and smart city, in order to induce corporate industrial transformation and information-security upgrading.
All-round seamless collaboration
Backed by Chunghwa Telecom's Internet services and Microsoft's Asure cloud-end services, TECO will deploy in 5G-based factories worldwide, accelerating intelligence application, automation, and digitalization, on top of utilizing data analysis and forecast tools to boost corporate competitiveness. The trio will also jointly develop Industry 4.0 solutions, along with smart energy, smart home appliances, and smart cloud-end services, for sales to the global market via Microsoft's Azure cloud-end platform. The alliance marks the inauguration of TECO's new operation model "manufacturing as a service," aiming to develop such items as precautionary maintenance for electromechanical products, smart factory solutions, AR remote collaboration, and big-data platform.
TECO Electric & Machinery: materialization of futuristic 5G-based factory
Sophia Chiu, TECO chairman, points out that having attained significant progress in manufacturing digital transformation in recent years, TECO is poised to carry out a number of major projects, including virtual digital infrastructure, mixed cloud-end structure, information security, and high-performance, safe cross-border operating network, taking advantage of the backing of Chunghwa Telecom and Microsoft., which will also boost the group's global digital logistics capability.
Chunghwa Telecom: spearheading development of Taiwan's 5G industry
Sheih Chi-mau, chairman of Chunghwa Telecom, remarks that backed by its frequency-spectrum bandwidth, the largest in Taiwan, sprawling network, extensive service network, and a solid R&D team, Chunghwa Telecom can provide corporate customers digital-transformation services and various solutions, including new-generation SD-WAN network, cloud-end/IDC, big-data analysis, 5G+AIoT, blockchain, information security, and green energy. In addition, the company will ally with even more manufacturers to push smart manufacturing, in order to accelerate Taiwan's industrial upgrading and help even more corporate customers transform their operations.
Microsoft Taiwan: helping Taiwan attain industrial upgrading
Ken Sun, general manager of Microsoft Taiwan, notes that "Microsoft launched "Reimagine Taiwan" program last year, pledging to help with Taiwan's industrial transformation and make it an digital transformation hub in Asia. The alliance with TECO, as part of the program, will help the latter overhaul its operation and business model, thereby enabling it to make major inroads into the global market."
Profiles of the trio
TECO Electric & Machinery:
As the largest motor manufacturer in Taiwan and among the top five worldwide, TECO has spared no effort developing high value-added products in recent years, including smart products and system solutions, in line with the corporate vision of "energy conservation, emission reduction, intelligence, and automation." For more information, please refer to its website at https://www.teco.com.tw/.
Chunghwa Telecom
As a leading firm in telecom and information-communication technology in Taiwan, Chunghwa Telecom focuses on fixed-line telecom, mobile communications, broadband wireless access, and the Internet, as well as corporate ICT services and cloud-end services. The company has been actively engaged in the cause of corporate social responsibility in recent years, for which it has been granted various awards, both in Taiwan and abroad. For more information, please refer to its website at http://www.cht.com.tw.
Microsoft Taiwan
Microsoft (NASDAQ: MSFT) has been dedicated to digital transformation in the era of intelligent cloud and intelligent edge in recent years, in line with the mission of helping everyone and every organization on the earth attain remarkable achievements. For more information, please refer to its website at https://www.microsoft.com/zh-tw/.