TECO Supplies E-Bus Powertrain to RAC
2021/03/17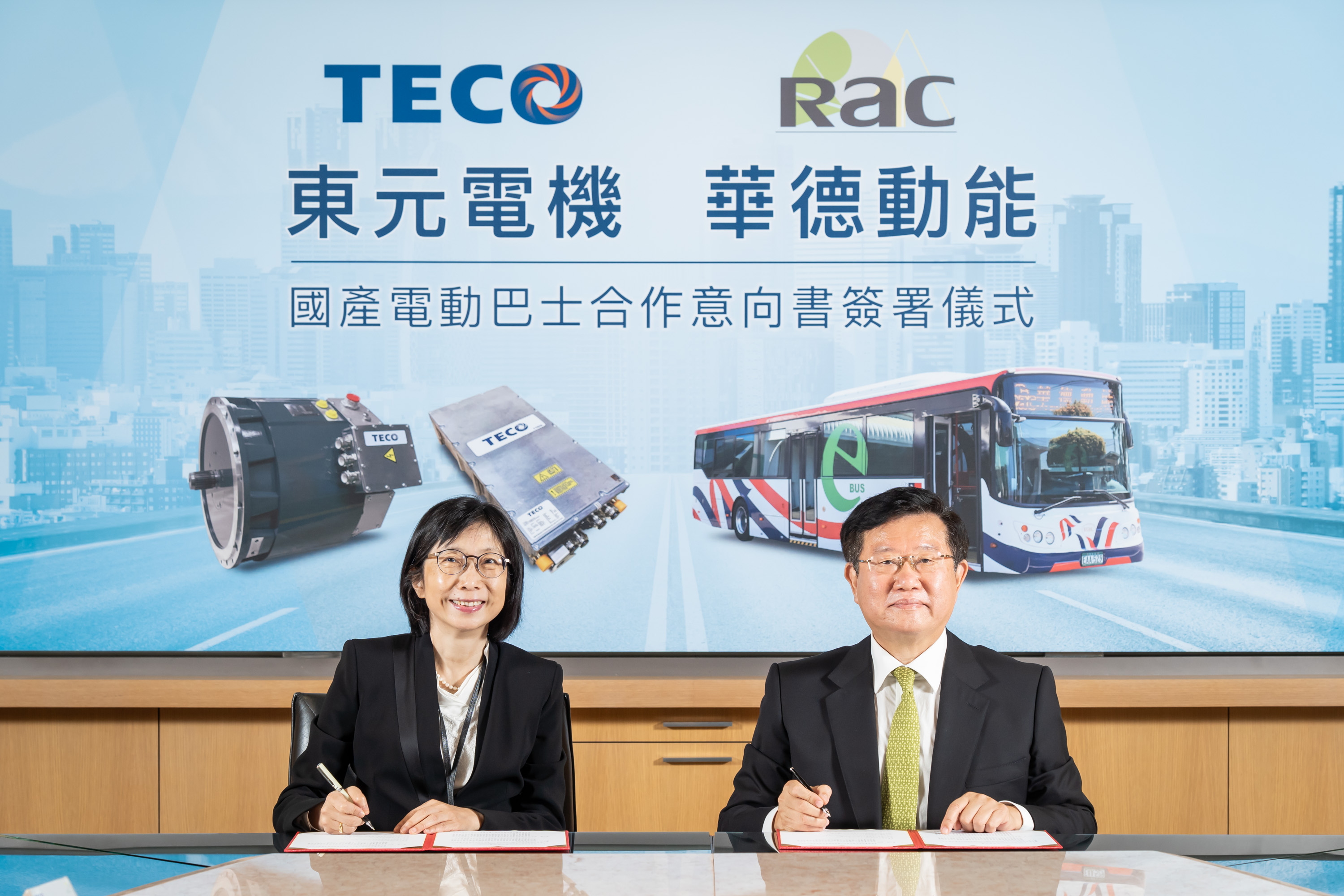 TECO Electric & Machinery Co., Ltd. and RAC Electric Vehicles Inc., a major local electric-bus manufacturer, signed a letter of intent today (March 17) for the supply of 500 e-bus powertrains within two years, with delivery of 30 powertrains as the first batch scheduled in the second quarter this year.

The powertrains, consisting of TECO's proprietary motors and drivertrains, will combine with RAC's chassis and car bodies, representing a stride in the development of indigenous electric bus.

In the letter of intent, the two parties highlight their goal in pushing the development of indigenous electric buses, without excluding the possibility of tapping overseas markets together. The cooperation will contribute to the upgrading of local technologies for electric bus and key components and parts, fostering the development of the supply chain.  

TECO chairman Sophia Chiu points out that TECO forayed into Taiwan's e-bus supply chain in 2018, with the Chungli plant now turning out products conforming to the IATF-16949 quality standards, at amount surpassing domestic peers. The company will further expand its smart production lines in Taiwan this year.

Tsai Yu-ching, RAC chairman, notes that RAC will join hands with excellent partners in spearheading the development of indigenous e-bus, which will enter mass production this year. In line with the government's policy, RAC will push popularization of e-bus in Taiwan and even make inroads into overseas markets in coming years.


As Taiwan's first company for the development and production of powertrain, TECO was granted golden award of the Taiwan Excellence Awards for its powertrain T Power 90 last year. The company will roll out next-generation compact model "T Power +," a high-power and -voltage model boasting electric control for 250 kW electric machinery, scheduled for road test in the scone half this year. As Taiwan's first e-bus manufacturer with self-design capability and local contents rate exceeding 60%, RAC is one of the two local qualified e-bus manufacturers for the government's e-bus pilot program, with a climbing capability which is among the most powerful worldwide.