TECO Group Exhibits Strength in Smart Service and IoT
2019/03/27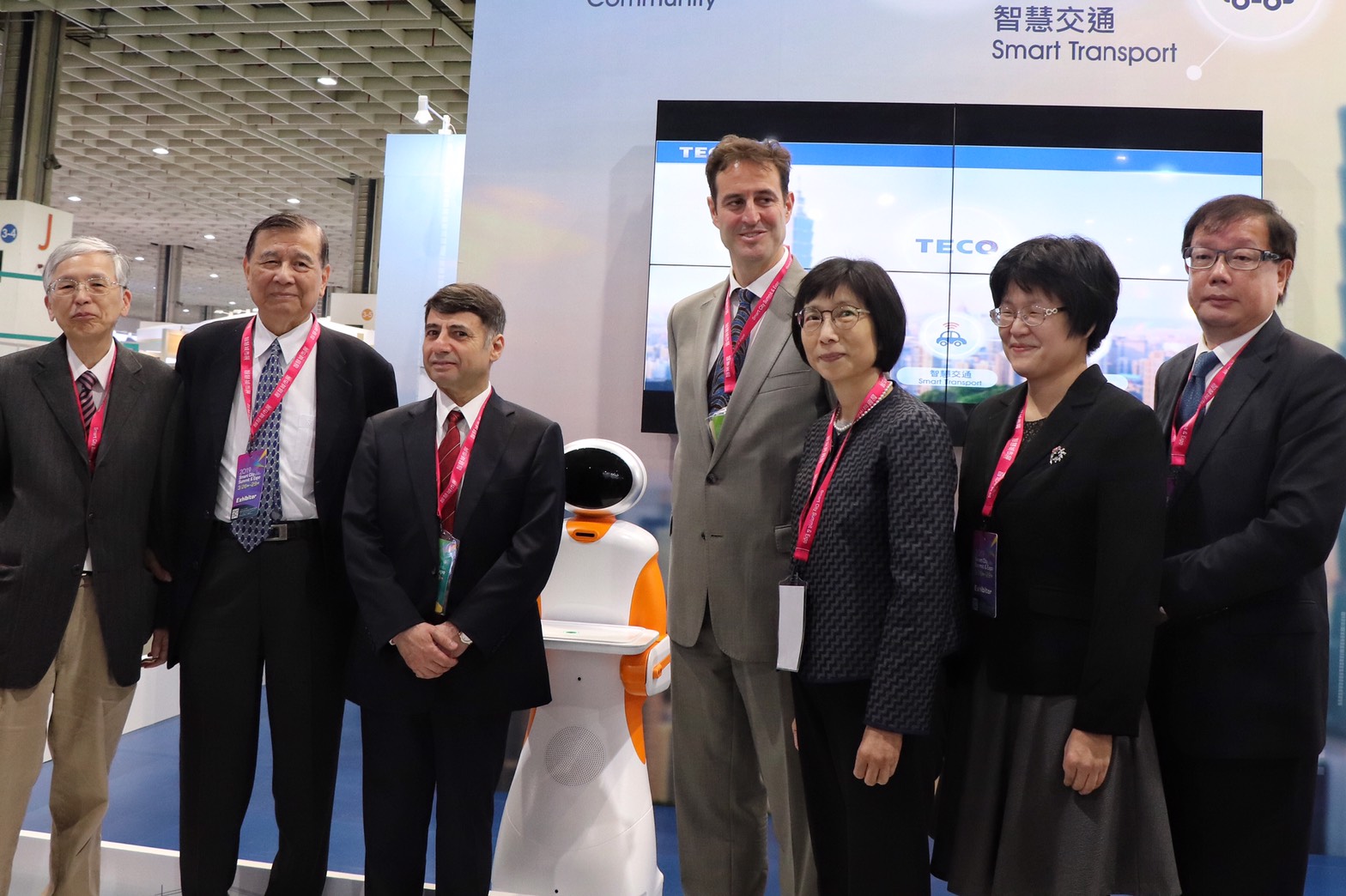 TECO Group will exhibit its strength in smart solutions and IoT (Internet of things) during 2019 Smart City Expo, pooling the resources of TECO Electric & Machinery and a number of other subsidiaries, including TECO Smart Technologies, Taiwan Pelican Express, Information Technology Total Services, Yatec Engineering, TECOM, and Yuban. Displays at its exhibition area (booth K814) will include service-oriented robot, smart luggage locker, cloud-end repair and maintenance service, smart road lamp, and smart community energy and electromechanical system management, as parts of all-round smart city solutions.
The group's exhibition features three major themes: smart retail, smart transportation and smart community.
Highlight of smart retail is a service-oriented robot, which moves around on an automated guided vehicle (AGV) equipped with the company's own servo actuator and motor, boasting excellent real-time positioning, precise traversing capability, and remarkable barrier avoidance. Upper body of the robot can be customized, for various applications, such as meal delivery, as one on display, logistics, public service, medical care, and security and on-site inspection, on top of appearance highlighting corporate image. During the exhibition, Mos Burger will demonstrate integrated APP ordering service, employing the service-oriented robot for meal delivery.
Sophia Chiu, chairperson of TECO Electric and Machinery, pointed out that smart-application business is a centerpiece of the company's forward-looking business in 2019. In addition to demonstration of smart community, smart-community micro-grid, smart locker, and service-oriented robot during the fair, the company is also developing smart-factory solution and digital services, targeting both domestic and overseas markets, for which short-, medium- and long-term targets have been formulated.
A popular smart-retail product on display is smart lock, developed by TECO Smart Technologies Co., Ltd., boasting touch-screen operation and multiple convenient functions, such as cashless payment (EasyCard), e-uniform invoice, and service booking, which promise a brand new experience for users. Taiwan Pelican Express has installed the device at Taoyuan International Airport and Songshan Airport for use as luggage locker, appealing to customers with convenience and safety, plus around-the-clock service, assured by regular inspection by staffers and around-the-clock video surveillance.
In line with TECO's foray into the electric-car market, for which it has rolled out 70 kW permanent-magnet motor for electric cars, Information Technology Total Serives (ITTS) displayed in the smart-transportation section cloud-end smart repair and maintenance service. Thanks to IoT and AI technologies, the service features precautionary repair and maintenance, including cloud-end real-time dispatching of workers and big-data analysis of repair and maintenance records, facilitating real-time grasp and posting of information on power consumption and temperature increase of electric cars, for cloud-end analysis as basis for car repair and maintenance.
As a fruit of its R&D on the integration of power and the IOT technology in recent years, TECO Electric and Machinery exhibits smart micro-grid monitoring system for managing and maintaining community micro-grids for wind power and PV power, to assure the latter's operation and efficacy. The company has exported the system to an island country in the Pacific, helping it maintain a stable power system. In the exhibition, TECO even couples smart micro-grid monitoring system with "smart electromechanical equipment management platform" and "digital chiller service system," offering a complete solution to residential and business communities.
In the fair, Yuban, an TECO affiliate, showcased smart streetlamp, capable of collecting data for posting for cloud-end analysis, facilitating large-scope precise surveying and privacy protection, which outperformance similar products on the market.