TECO Exhibits AI and IoT Solutions at 2021 Smart City Expo
2021/03/23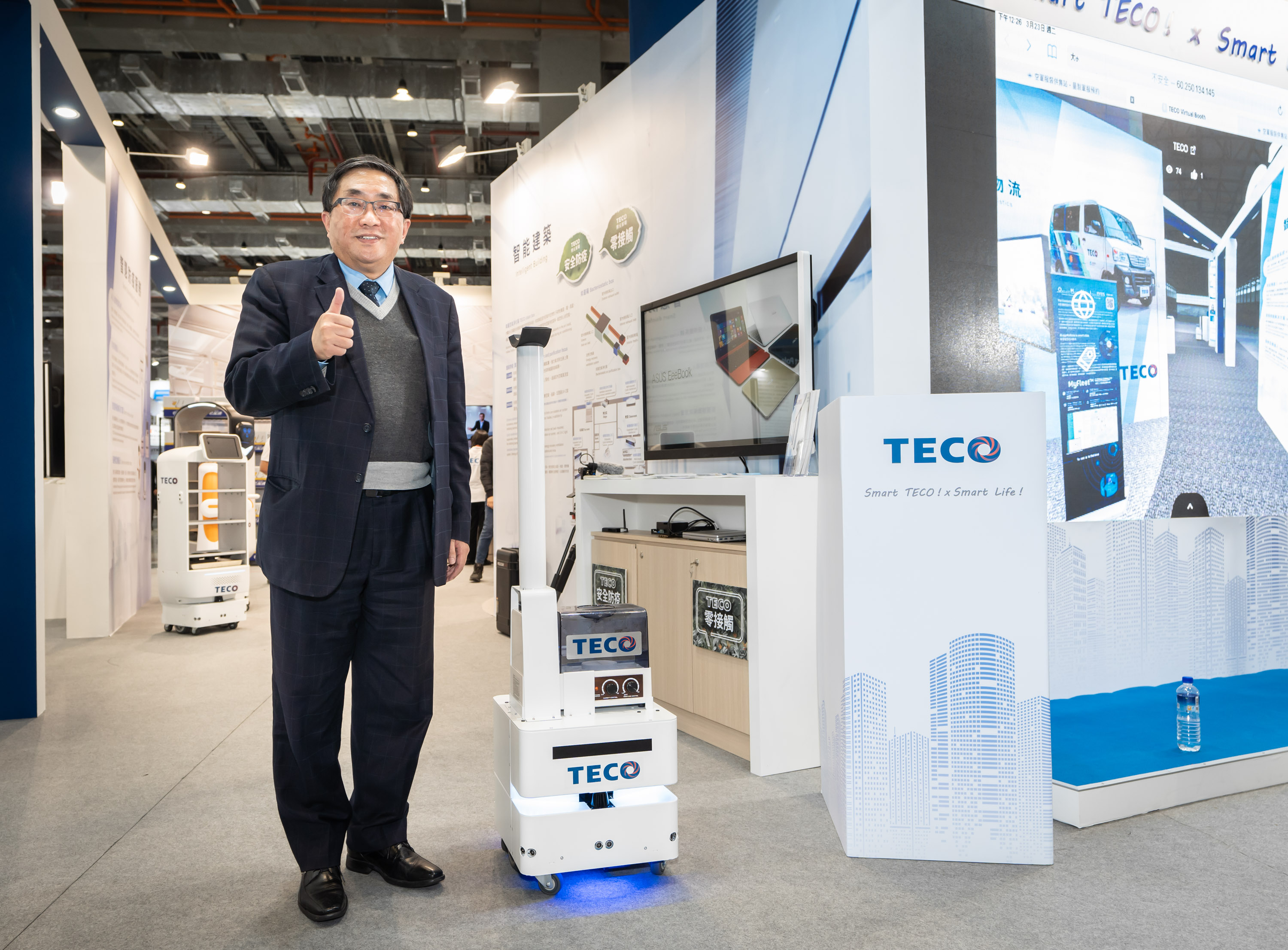 At 2021 Smart City Summit & Expo in Taipei, March 23-26, TECO Group will exhibit AI and IoT solutions, highlighting their applications in the four areas of anti-epidemic services, logistics, transportation, and construction, under the theme of "smart TECO, Smart Life."
In the area of anti-epidemic services, for instance, there will be smart disinfecting robot, smart access system with disinfection function, and bacteriostatic air purification box installed at entrance, all applicable to office buildings, stations, and other public spaces. Such solutions, meant to make daily life safer and more convenient, are fruits of collaboration among the group's member companies, including TECO Electric & Machinery, TECO home appliances division, ITTS (Information Technology Total Services), Taiwan Pelican Express, and Yatec Engineering Corp.
Smart disinfecting service for office building
The "smart UVC disinfecting robot" on display, mounted on TECO's proprietary AGV (automated guided vehicle), can not only employ UVC-ray emitted by LED UV lamp for disinfection but also spray potassium-ion water for large-area sterilization. The product has been applied in some local office buildings and stations. Another highlight is access control system with disinfection function, introduced to Taiwan via the agency of ITTS, which can take the temperatures of visitors automatically. Also available is a UV-C ray disinfection set for attachment to entrance, ventilation, and cyclic devices, which, for instance, disinfects inflowing or cyclic air at entrance, warding off biological pollutants (mold, mildew, fungus, bacteria, and dust mite, etc.).
Communal smart green power solution
In addition, Yatec Engineering Corp. showcases "communal smart green power solution," featuring use of PV power and power-saving arrangement, meant to solve the problem of electric-car charging at old communities, as well as parking lots and buildings, as electric-car charging often leads to power consumption exceeding the ceiling set in contracts with Taipower.
Smart logistics
Given the surging e-commerce business during the pandemic, ITTS rolls out smart logistics system, featuring visualized operation control center, already employed by Pelican Express Taiwan, featuring roll-container temperature control for delivery fleet, real-time merchandise inquiry, driver care, driving track, vehicle dispatch, and performance evaluation, which can combine with smart warehouse merchandise picking system, smart glasses, and smart AGV, as well as big-data and AIoT technologies, enabling logistics firms to have firm grip on latest information and thereby streamlining their operations.
Moreover, TECO Group presents AI driver-monitoring system, capable of catching and rectifying erratic driving behaviors, to cut violations of traffic regulations and assure safe driving.
In addition to on-site tour, people can also browse TECO's exhibits online simply by scanning the QR code below.