TECO Rolls Out Custom Air Conditioner
2019/01/07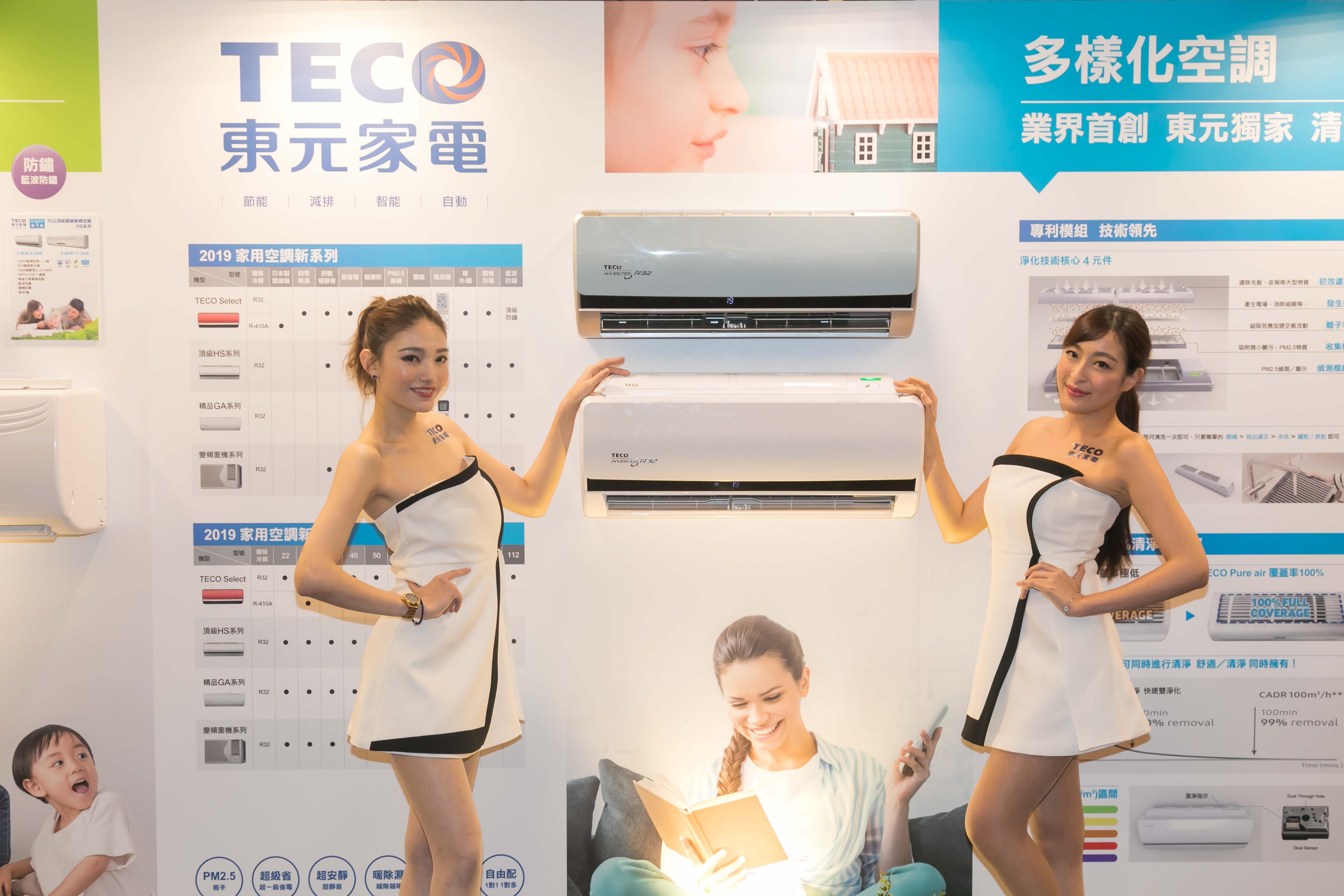 TECO has demonstrated once again its prowess in the household-appliances realm, with rollout of an array of new products for 2019, including many new air conditioner models, such as a household one with custom features, during a presentation conference on Jan. 4.
Also on display at the conference were a refrigerator with the honor of 2019 Taiwan Excellent Awards, offering the options of freezing/produce, greatly increasing convenience in use; a DC variable-frequency commercial refrigerator, the first such indigenously made model, which boasts 60% power saving, compared with rival brands, and a desktop personal air purifier. TECO points out that the theme of its new products for 2019 is creation of a clean, energy-conserving, and cozy living space for consumers.
A comprehensive range of air conditioners 
TECO has upgraded its lineup of its commercial air conditioners, a leading indigenous brand, which now covers various models with various energy belts, suited to different fields or needs. It, for instance, unveiled a VRF (variable refrigerant flow) central air conditioning multimodal series, with sizes suited to various installation spaces, thereby attaining one-stop shopping service. Also making debut at the conference was a brand new series of chillers featuring "high performance, compact size, and thin body," which can be disassembled before assembly onsite, facilitating installation. 
In line with its foray into the market of high energy-performance magnetic-suspension centrifugal machine, for application in civil engineering and green buildings, in recent years, TECO rolled out IPLV chillers, boasting 30% power saving than non-variable frequency models. In addition to high energy performance, TECO's air conditioning systems also boast product-health diagnosis, visualized power management, and indoor air-quality monitoring. On top of TAF certification, a large-scale dedicated IPLV testing station was installed at the Guanyin plant in 2018, assuring optimal energy conservation for air conditioning unit.
R32 household air conditioners boast custom functions 
In a bold move, TECO launched household air-conditioner R32 series, which, in addition to dehumidifying and air purifying, offers an assemblage of other functions, capable of meeting the daily-life needs of different individuals. Also on display at the conference was a TECO Select air-conditioner series, which, in addition to topnotch functions and accessories, offers the option of fashional designs, capable of matching interior decor to highlight personal features and styles.
Freezing/produce options for refrigerators  
The aforementioned refrigerator winning 2019 Taiwan Excellence Awards offers the options of freezing/produce functions, facilitating flexible space utilization. In addition to over 60% energy saving, compared with rival brands, the DC variable-frequency commercial refrigerator is equipped with IoT cloud-end smart management, capable of cutting foodstuff waste via effective management.
Another highlight at the conference was 75" 4K quantum-dot liquid crystal AV, featuring abundant true colors and a narrow frame, as well as some small home appliances, with fashionable flavor, such as wooden desktop circulating fan, desktop personal air purifier, and three-in-one wireless dry/wet/mopping vacuum cleaner. 
Thanks their appealing appearances and outstanding functions, these new models will inject fresh growth momentum for TECO's business in 2019.