TECO Signs Agency Agreement With Schneider for Power-Distribution and Automation Products
2021/04/27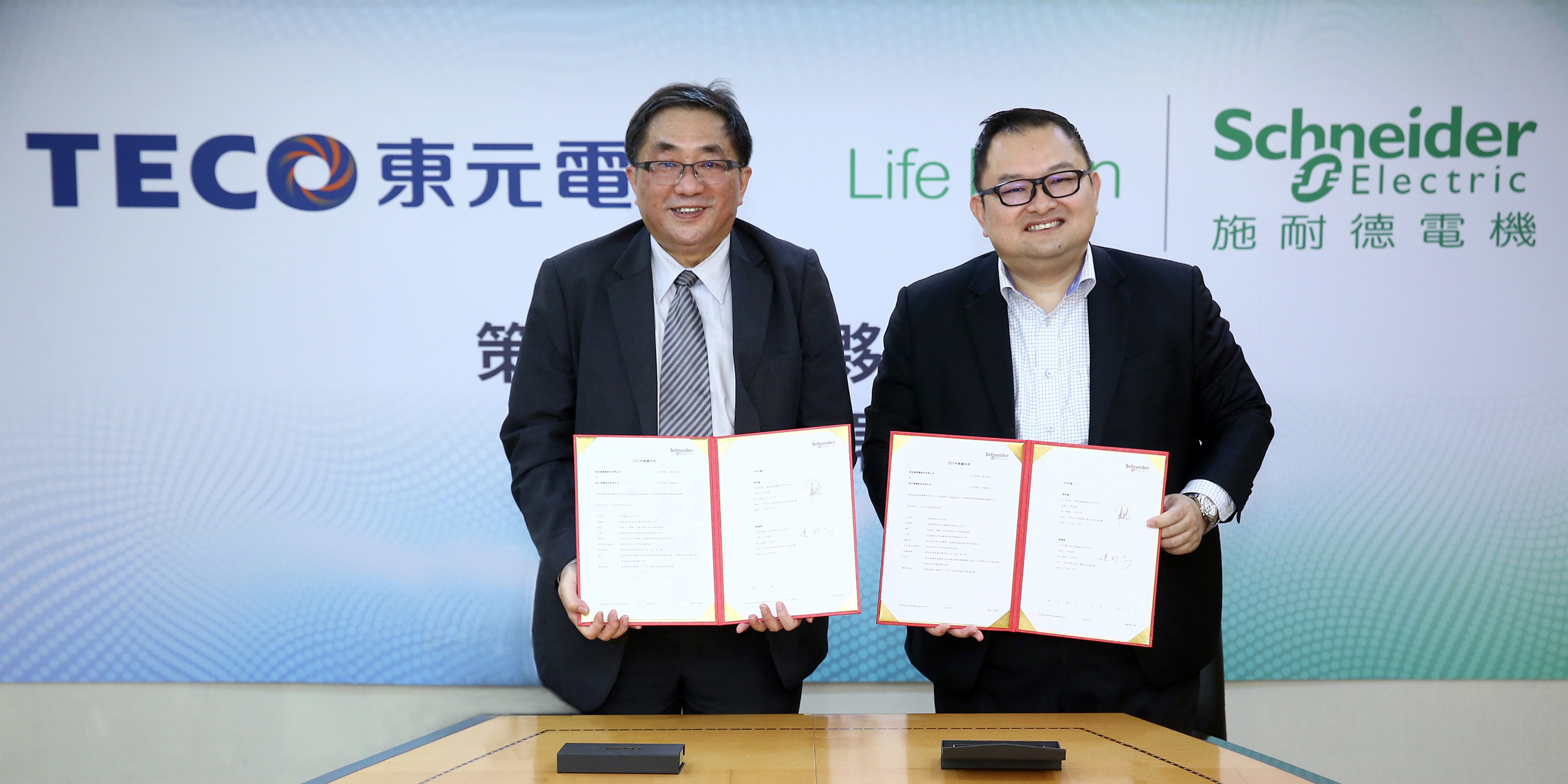 TECO Electric & Machinery (1504) signed yesterday (April 27) an agency agreement with Schneider Electric of France for selling the latter's Easy-series power distribution and automation control products in Taiwan, for which the French company is the world's leading supplier.
The collaboration was set, as J. George Lien, TECO president, and Tze Ping Teoh, president of Schneider Taiwan, inked a memorandum of understanding for the partnership, which may be extended to such fields as IIoT (industrial Internet of things) solutions in the future.
TECO's agency will cover air circuit breakers, molded-case circuit breakers, electromagnetic contactors, and inverters. It is expected to raise the market shares of Schneider products in Taiwan, including increasing the share of its electromagnetic contactors to over 40%, up from 30% now. J. George Lien remarked that via the alliance, TECO will offer customers flexible cost-effective options, push intelligence applications in Taiwan, and help with formation of a safe power-consumption environment, via big-data collection and application and real-time monitoring of power distribution system. The collaboration will help Schneider meet the needs of Taiwanese companies and enable them to access high-quality, highly safe products and services featuring European specifications, accelerating the digital transformation of Taiwanese industries. Tze Ping Teoh noted that via the agency of TECO, Schneider's products and energy-management solutions can help Taiwanese enterprises attain sustained growth. Combination of Schneider's IIoT solutions and TECO's market status and experience in Taiwan will create a synergy effect, enabling Schneider's products to attain 30-50% CAGR (compound annual growth rate) in sales within three years.
Schneider has been vigorously pushing the development of IIoT solutions in recent years, now offering complete and flexible smart system and service, for applications in buildings, industry, IT, and grid. Meanwhile in recent years TECO has made major inroads in smart energy and smart grids, on both the domestic front and abroad, on top of product digitalization. Via the partnership, the two parties are confident in tapping business opportunities in the fields of machinery, hi-tech, and automation control.