Seven Persons Win 2018 TECO Award for Int'l Contribution
2018/11/03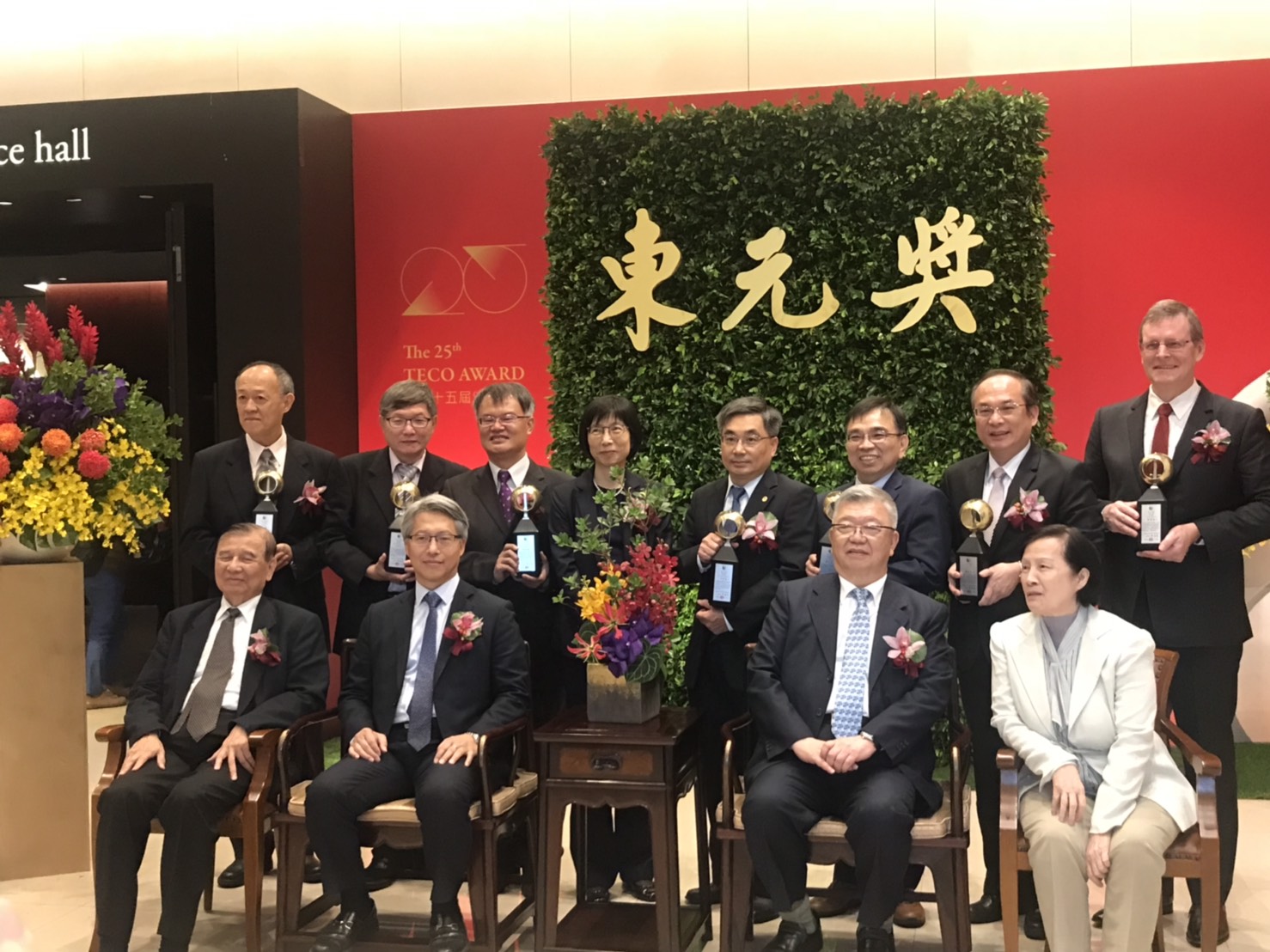 Seven persons received 25th "TECO Award" during a ceremony on Nov. 3, as an acknowledgement of their contribution to hi-tech R&D and industrial development with international significance.
Of the four sectors of the hi-tech category of the award, the two winners of the electrical machinery/information technology/communications sector were granted the honor for their contribution in "smart manufacturing, decision-making analysis" and "protection against static-electricity discharge in IC, and reliability design," both current industrial focus. The judges granted the award for the biomedicine/agricultural sector to two persons, due to their contribution to the R&D on and technology transfer for "perianth password" and anti-polyethylene glycol immunotherapy. Awards for the two other sectors of the category, "machinery/energy/environment" and "chemical engineering/materials" were both granted to a single person.
The humanities category focuses on dramatic art, encouraging workers in this field with outstanding achievements in "dedication to the heritage, education, performance, and R&D/innovation in dramatic art, with works featuring rich humanistic contents, enhancing humanistic literacy, and making profound influence on dramatic art." Recipient of the award for the category is Chin Shih-chieh, a contemporary dramatic artist who has dedicated to the field, as an director, actor, and playwright, for over 40 years since moving to Taipei to start the career as a youth aged 23 hailing from Pingtung in southern Taiwan. He heads Lan Ling Theater Workshop, leading it to foray from stage play into movie and TV. With extraordinary persistence and enthusiasm, he is a pioneer and paradigm of Taiwan's contemporary dramatic art, with works covering both classical and contemporary dramas. Chin is a master, a exemplary figure of Chinese performing art, on both sides of Taiwan Strait. He embodies the "co-prosperity of hi-tech and humanities" spirit of TECO Award. 
Other award winners this year are also international topnotch figures in their respective fields.
The six hi-tech award winners are professor Chien Chen-fu of National Tsing Hua University, professor Ko Min-tao of National Chiao Tung University, professor Chou Chih-hung of National Kaohsiung University of Science and Technology, professor Chen Shan-yuan of National Chiao Tung University, Yang Chang-hsien, vice  president of National Chung Hsing University, and Steve R. Roffler, research fellow at Academia Sinica.
A specialist in smart manufacturing, big-data analysis, and multi-objective decision making, for both theory and technology, professor Chien Chen-fu created the Unison decision analysis framework, helping multiple enterprises preempt business opportunities in the restructuring global supply chain. Owner of 452 domestic and foreign patents, professor Ko Min-tao has successfully helped many domestic and foreign firms, including TSMC and MediaTek, solve technological problems related to product reliability. With 35 years of experience in evolutionary and optimal algorism and research on AI application, professor Chou Chih-hung has assisted enterprises in traditional lines and SMEs conducting R&D on smart manufacturing technology, greatly enhancing their competitiveness. Professor Chen Shan-yuan developed "new dosage-form magnetic anti-cancer medicine carrier" and "nano-carrier wrapping technology platform," breaking the bottleneck for the clinical treatment of traditional chemotherapy medicine. Yang Chang-hsien developed breakthrough theory "perianth password" in analyzing the breeding mechanism for special-strain orchids, and successfully created a new type of "phoenix orchid," enhancing not only the output value of the local floral industry but also its international visibility. Steve R. Roffler, the only Western award winner, developed the world's first PEG antibody for application in the synthesis of polymer, such as protein and peptide medicines, which has been used in clinical application in producing protein medicines by many pharmaceutical firms.
The seven award winners this year all possess key competitiveness in leading the development of trend, further pluralizing and enriching the talent tool created by TECO Award for Taiwan. In addition to a trophy each, NT$800,000 was granted to winners of each category, meaning two winners of the same category will share the money. The award was presented by James C. Liao, president of Academia Sinica, during the ceremony.
Speaking at the ceremony, Sophia Chiu, TECO chairperson, pointed out that TECO Award embodies the "co-prosperity of hi-tech and humanities" vision for social development of the TECO Technology Foundation, now at 25th anniversary. TECO Award, said Chiu, is a testimony to the development of Taiwan's hi-tech industry, from scratch at start to cutting edge now. While every award winner has different inspiring story for success, all of them have been persistent in their dedication to a specific field, plus the backing of their families or research teams. The foundation aspires to continuously create a new horizon and reach new peak by holding a musical concert to celebrate the outlook of their research projects and their contribution to the Taiwanese society. 
James C. Liao remarked that the enthusiasm of thorough quest, including the smallest detail, is essential for any undertaking, adding that Taiwan has many enthusiastic professional talents in every field, constantly striving to push the Taiwanese society forward. In addition to talents with remarkable achievements, Liao also urged enterprises to emulate the practice of their Western counterparts giving financial support to those still diligently working hard in order to make breakthrough in their research projects.
Over the past 25 years, there have been 139 recipients of TECO Award, which has issued NT$74.3 million in award money.