TECO Tapping the Energy Conservation Market of the Philippines
2019/11/08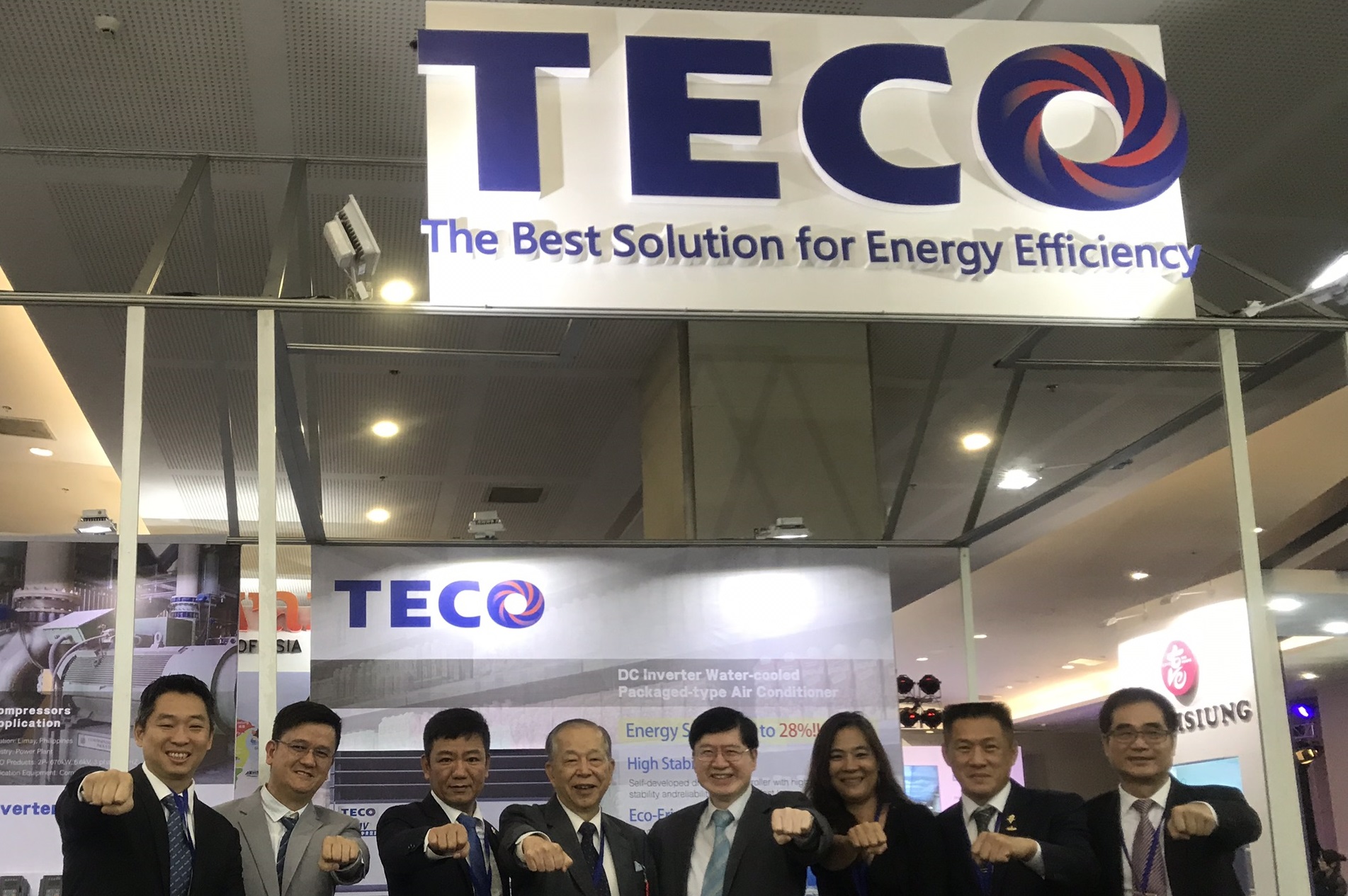 During the Taiwan Expo 2019 in the Philippines, held in Davao Nov. 8-9, TECO Electric & Machinery will display high-performance energy conservation solution and key components for motive-force transmission system, in order to tap the country's fast expanding market potential. 
Sophia Chiu, TECO chairman, points out that via the exhibition, the company hopes to acquaint Philippine enterprises with its brand value and capabilities for meeting their needs in Industry 4.0 and business air conditioning.
The Philippine market has become increasingly attractive to enterprises worldwide, following vigorous economic development in recent years. 
The International Monetary Fund (IMF) predicts that the country's GDP growth will top 6.6% in 2020. In fact, TECO has invested in six affiliates in the country so far, for engagement in the development of industrial zone, and assembly/manufacturing of electric-device switches, electric control products, business/household air conditioners, and electric vehicles, not only for the local market but also neighboring countries. At present, the company's industrial motors have carved out over 25% share on the Philippine market.
A major item in the TECO booth in the fair is direct-current variable-frequency packaged air conditioner, featuring R410A environment-friendly refrigerant and high-performance direct-current variable-frequency compressor, capable of over 28% power saving. The product has had very good reception among local large-scale sales outlets and factories. Also on display are high-performance, energy-saving inverters and permanent-magnet motors, mainly for supply to local machinery firms and wind-turbine or water pump manufacturers. In addition, there are magnetic switches and no-fuse circuit breakers, key components for power facilities for application in business buildings, residences, factories, and various public constructions. 
Back in 1994, Century Development Corp., a TECO affiliate, already established TECO Industrial Park in Subic Bay area and joined hands with the Philippine authority in setting up Subic Bay Development Management Center, for pushing the development of Subic Bay Industrial Park. In the future, TECO will step up effort tapping the Philippine market, focusing on sales of electric machinery products related to green energy, energy conservation, and energy storage, as well as cultivation of local talents, winning of large-scale power engineering projects, and establishment of complete marketing and service network, in order to consolidate its presence on the market and extend its reach to neighboring markets.
Introduction to TECO exhibits: 
1. E510s inverter series: The series employs the most advanced CPU, greatly boosting its computing and protection capabilities, on top of built-in STO safety protection mechanism, capable of meeting various industrial demands. 
2. F510 inverter series: The series is HVAC wind- and hydraulic power inventers, with complete power range, capable of meeting customers' needs in fan/pump and building automation. It embraces Modbus/BACnet/Metasys N2 communications protocol, applicable in building automation. With protection reaching IP55 level, the series can be applied in rigorous working environment. 
3.A510s inverter series: Furnished with high-performance core control technology for current vector, the series is supportive of various motors, including IM, IPM, and SPM and can be applied in both scenarios of lightweight and heavy loads, thanks to the double-rating design. It also boasts unique smart voltage-restraint technology, capable of preventing instant recharge of load carrying capacity, maximizing motor control. 
4.L510s inverter series: The series is applicable to the horsepower range of 0.25-15 HP, unseen in other comparable products on the market, capable of meeting the needs of customers on the lower-tier market. On top of existing V/F control, it has extra voltage-vector control function, capable of boosting the torque force of products significantly during low-speed activation. 
5. Permanent-magnet motor: Meeting the standards of IEC-60034-30-2 and IE ultra high-performance motor, TECO's permanent-magnet motors have to models for choice, DVLF series (extremely cold) and DVEN series (self cold). The former boasts the functions of resolver, rapid response, positioning control, tension control, and low-speed high torque and fixed torque, applicable in various machines, including grinding machine, guillotine, wire drawer, and all-electric injection machine. Despite lack of feedback, DVEN series has the function of variable torque, featuring safety, ultra quietness, and lightweight, applicable in blower, air compressor, metal sawing machine, and water pump. It can uphold the cutting quality at low energy consumption for application in cutting machine, featuring low speed and high torque, and is capable of boosting output during application of high speed and high torque.
6. Water-cooled all direct-current variable-frequency packaged air conditioner: With self-developed drive and controller, the air conditioner boasts high stability, high reliability, and longer life. Furnished with R410A environment-friendly refrigerant and director-current variable-frequency compressor, the product boasts over 28% of power saving. 
7. Small household electric-outage circuit breaker: With a beautiful look, convenient wiring, and easy operation, the device needs small operating space and can be coupled with household CB products. 
8. Lid-covered electric-outage circuit breaker: Meeting the standards of IEC, GB, and CE, the product features modularized accessories and easy installation/dismantling, capable protecting humans and properties, in the case of short circuit and overloading. 
9. Magnetic switch: With a brand new look and simple design, the product meets the standards of IEC, cUL, CSA, and RoHS, the product boasts 1M electric durability and 10A tripping level, capable of cutting energy consumption significantly.