TECO Major Shareholders Win Landslide in Reelection of Directors
2021/07/23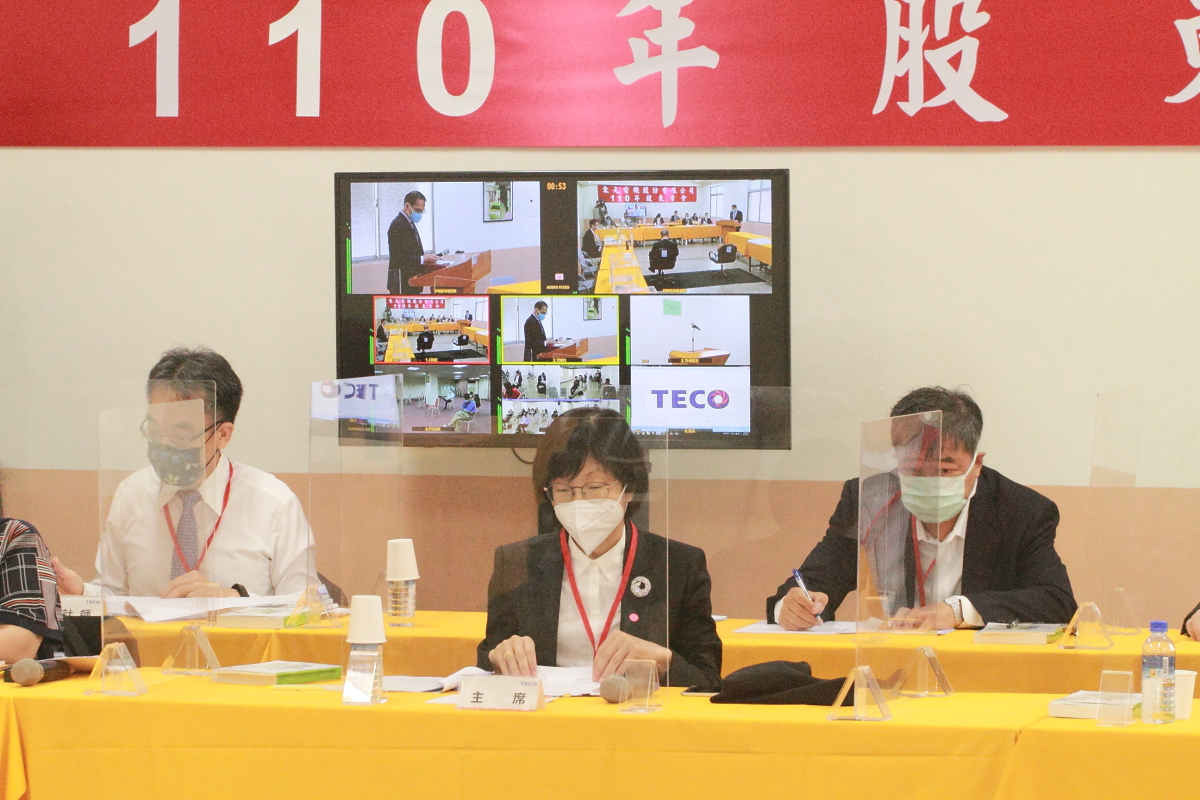 Faced with strong challenge, major shareholders of TECO Electric & Machinery Co. , Ltd. succeeded in consolidating the grip on the board of directors, with their nominated candidates winning 8 of 11 seats in the reelection for the board of directors during shareholders' meeting today (July 23).
Sophia Chiu, chairman, expressed gratitude to the support of shareholders, saying that the outcome shows the support of majority shareholders for the company's existing management strategy and spirit of corporate governance, urging all the new directors to follow the principles of legal compliance and corporate governance after swearing into office. She remarked that the existing management, which is expected to remain in power, will continue pushing reform and renovation, in order to create maximum benefits for shareholders.
In addition to the 8 seats garnered by the candidates nominated by major shareholders, candidates nominated by Creative Sensor Inc. won 1 seat, leaving 2 seats to others. Eighteen candidates vied for the 11 seats on the board of directors in the reelection. Sophia Chiu remarked that the competition represents a strife for the concept of corporate governance, as well as a test for the integrity, conscience, and spirit of legal compliance for the corporate existing leadership and management, with the outcome representing the support of majority shareholders for the company's adherence to good tradition and value concept, as well as their identification with the concept basing corporate reform on corporate governance. In return, the management will continue to push the company's transformation and upgrading, thereby creating a triple-win outcome for employees, shareholders, and the society.
A report on the distribution of 2020 earnings was submitted to the shareholders' meeting, calling for payout of NT$1.15 per share in cash dividend, a five-year high, which has been completed in July.
TECO has hit the list of top 5% among listed companies in corporate-governance evaluation for seven consecutive years and won TCSA "Taiwan Corporate Sustainability Award" for six years in a row, on top of selection as a constituent stock of 2020 DJSI Emerging Markets, underscoring acknowledgement of the existing management's concept by professional institutions, both in Taiwan and abroad. TECO points out that with 2021 being the 65th anniversary of its founding, the company will vigorously push its development target of "smart manufacturing, smart energy, and smart city," planning to roll out next-generation e-bus powertrain in the second half, develop engineering works for micro-grid and energy-storage system, and accelerate development of smart home appliances, in line with the industrial trend of "carbon neutrality" and 5G technology, in order to materialize the corporate vision of "energy conservation, emission reduction, intelligence, and automation."